EH36 shipbuilding steel plate,EH36 steel plate
The EH36 shipbuilding steel plate is the mainly kinds of steel for shipbuilding and oil platform, the shipbuilding grade EH36 can be used in the manufacture of the ship's hull structure, whose weight is more then 10000 tons. Shipbuilding grade EH36 is the high tensile strength steel, EH36 steel for shipbuilding and oil platform must be good toughness properties, higher strength, strong corrosion-resistance, the processing properties, and welding properties.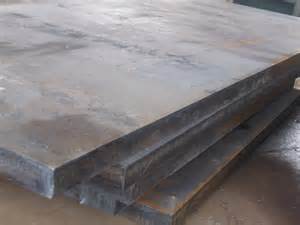 Main chemical elements composition of ABS Grade EH36
Main chemical elements composition of ABS Grade EH36
C
Si
Mn
P
S
Al (acid) min.
Nb
0.18
0.10-0.50
0.90-1.60
0.035
0.035
0.015
0.02-0.05
V
Ti
Cu
Cr
Ni
Mo
0.05-0.10
0.02
0.35
0.20
0.40
0.08
EH36 steel plate for shipbuilding
1. Standard: CCS, DNV, GL, ABS, LR, BV, etc
2. Grade: A, B, D,E, AH32, DH32, AH36, DH36, AH40, DH40, EH40, 2HGr50
3. standard:9 countries certifications
4. Specification:
thickness:5-120mm
width:1500-4020mm
length:3000-18000mm
Used in manufacturing shiphull, maritime oil extraction drilling platform, platform tube junction and other structural components.
Application of EH36 steel plate for shipbuilding
EH36 steel plate is widely application in offshore structures, shipbuilding, ice-going vessels, power plants, freight cars, transmission towers, dump trucks, cranes, trailers, bull dozers, excavators, forestry machines, railway wagons, dolphins, penstocks, pipes, highway bridges, building structures, fans, pumps, lifting equipments, port equipments and etc…
Shanghai Katalor not only can supply steel plates,we also can supply Steel Services,such as Cutting, Painting, Pretreatment, and The third party inspection in DNV, BV, LR, ABS, SGS ,etc and others in super thick ship steel plate.If you need EH 36 steel plates for shipbuilding or any kinds of steel service,please feel free to contact with us ,we will reply you ASAP!
Pre: EH32 Shipbuilding steel plate,EH32 steel plate
Next: ABS Grade EH40 Marine steel,ABS Grade EH40 shipbuilding steel ,ABS EH40 ship plate